Audio Visual systems, for the most part, are made up of a number of pieces of equipment.
That's why we design and build bespoke AV furniture to integrate the essential hardware into your meeting room. Our custom-made, hand-built cabinets also incorporate cooling and ventilation systems, which prevent your kit from overheating.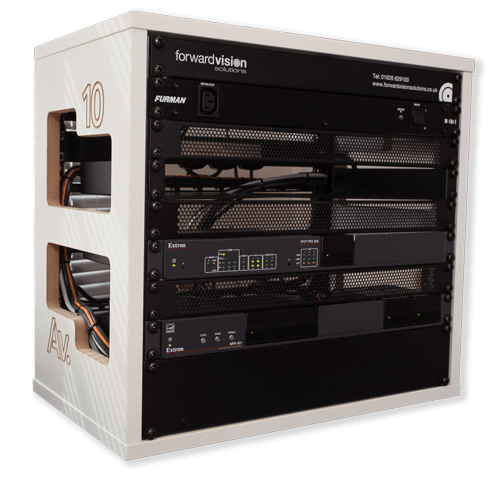 The cables under the table
Often a source of mishap, the connections between table-top hardware (phones, laptops, etc) and the power and network points in the floor are easily disturbed by errant feet.
Our specialist AV Cable Column offers a practical solution and can be used with a new table, or your existing meeting room furniture.
Complimentary table design and build also available
Removable equipment racks
Integrated connection panels for easy maintenance
Built-in ventilation and thermostatically controlled cooling fans
Easy access for connection to room cables
Available in a range of materials and finishes
Furniture depth is tailored to fit the equipment
Creative solutions to difficult rooms including integrated monitor supports for screens in front of windows, and structural column cut-outs to maximise available space
Auditoriums and larger meeting rooms often feature podiums for keynote speeches.
We have considerable experience in the design and construction of lecterns with integrated
touch screen panels and are happy to discuss your specific needs.