Reception & Breakout AV systems
As the gateway to your business, your reception plays a significant role in welcoming both guests and employees. Create a great first impression with reception Audio Visual displays that include digital signage to promote your brand or IPTV to keep your guests up to date with the latest news.
Breakout rooms are an ideal area for staff to unwind. Integrating displays, with or without discrete audio, can transform your breakout spaces into valuable areas that rejuvenate your team.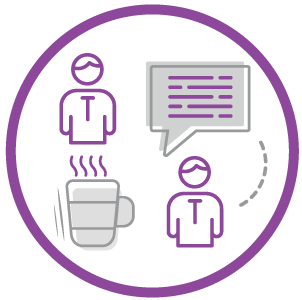 Audio Visual systems for receptions can be as simplistic or sophisticated as you desire. From single-screen displays and large-format LED displays to impressive multiscreen video walls, we will help you design a reception AV solution that's right for your business.
 Use the space to showcase your products or the latest campaign with digital signage, or simply create a relaxing environment for your visitors to enjoy on their arrival. By integrating IPTV into your reception AV system, you can streamline a variety of television content and information such as weather, traffic reports, and Tube or train statuses onto screens not just within your reception area, but across your business. With over 500 apps working within your IPTV solution, you can genuinely customise your guests' experience.
Your reception area can leave a lasting impression on clients, make it a good one.
Revitalising breakout spaces
Bring a sense of purpose to your breakout spaces by integrating Audio Visual displays into them. Audio Visual systems for breakout areas can be used for a multitude of purposes, from entertaining your team during their lunch break to reinforcing your brand and displaying corporate communication with integrated digital signage.
For more details on how we can help turn your reception and breakout spaces into vital, valuable areas of your office, please feel free to contact us.