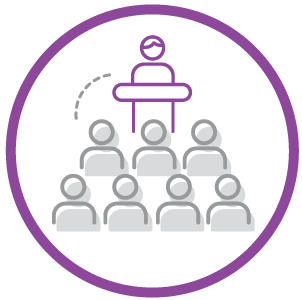 A large workforce brings with it many demands – and that includes heavyweight AV to get your message across.
The kind of space able to support a company-wide presentation, or a 'Town Hall' meeting is going to be big. And the biggest challenge in that kind of space is the audio.
If your system isn't carefully designed, you'll find the audience frustrated by echo and distortion, rendering the message incomprehensible.
Our designers will specify and supply audio systems that get your message across directly and to the right places, effortlessly.
OVO Energy for example, needed to fill a five-story-spanning atrium with sound and vision; a similar challenge to that faced by Rackspace. For Edelman, by contrast, we installed an intuitive system for their arrangement of divisible rooms.
See the case studies section for detailed examples of our installations.